A family member was suddenly arrested…
I was accused of a crime…
I don't want to be fired for being arrested…
If you have such concerns, please don't worry.
What if you get a criminal record?
Common concerns
1
Will I get fired from my workplace?
2
Will it have a negative impact on my family/marriage?
3
Will I be unable to get a job?
4
Will I be unable to travel abroad?
5
Will it be hard to live normally if people find out?
It is important to consult with a lawyer as soon as possible to solve problems related to criminal records.
Why ATOM?
Experienced criminal lawyers
A professional defense team with over 1700 successful "acquitted/not prosecuted" cases!
Private and confidential rooms
Experience dealing with delicate concerns
Free consultation services
If it's urgent, please give us a call right away!
What's special about ATOM
Experienced criminal lawyers
Since its establishment in 2008 as a law firm specializing in criminal cases*, our firm has made numerous achievements in criminal defense, including over 1700 cases of acquittal and non-prosecution. We take consultations on all criminal cases, such as property crimes, sexual crimes, drug crimes, violent crimes and juvenile cases.*Since 2015, our lawyers have also used their expertise in criminal law to aid victims of traffic accidents.
We will take on any criminal case.
Property crimes
Sex crimes
Drug crimes
Violent crimes
Juvenile crimes
Other crimes
What's special about ATOM
All rooms are private and confidential.
Legal consultations at ATOM are always carried out in a completely private room on a one-to-one basis with one or two lawyers.
At ATOM, we pay close attention to the protection of customers' privacy, so you can feel at ease even with sensitive consultations.
What's special about ATOM
Free consultations
ATOM provides free legal consultations for those under investigation by the police. Anyone can have a consultation, but particularly.
Those who are being summoned by the police.
Those who have been interrogated by the police and are awaiting punishment or trial.
Those whose family members have been arrested or detained.
From the free consultation to case resolution
At ATOM, free legal consultations are available 24 hours a day, 365 days a year by phone (Japanese only -- please ask a Japanese speaker to call).
You do not need a booking to receive a LINE consultation.
Booking
Book your free consultation by phone
First, please book your free consultation by phone (Japanese only).
Free consultation
Consultation with a lawyer
One of our lawyers will give you legal advice, and explain the future outlook and actions to be taken in detail.
If you are satisfied with the legal consultation, you don't have to make a contract with us. We will not force you to make a contract.
If you decide you want to hire one of our lawyers...
We will explain the possible solutions, the prospects, and the necessary costs.
Second opinions and price matching are also welcome. You can make a contract after you agree to it.
Defense
Defense begins
After the contract of attorney is signed, the attorney will immediately begin activities. We will keep in touch with our customers, report on their progress, and listen to their opinions as we proceed with our projects.
The key to a criminal case is to consult as soon as possible.Please calm your concerns with a free consultation.
Sent to ATOM:

Over 700 messages of gratitude
From a client accused of injuring another
An out-of-court settlement was reached, and I was released speedily without prosecution!
From a client accused of secret filming
No prosecution after settlement!
As a result of consulting with several law firms, we considered the knowledge, experience, and personality of the lawyer in charge and asked ATOM to handle our case.
From a client whose family was accused of secret filming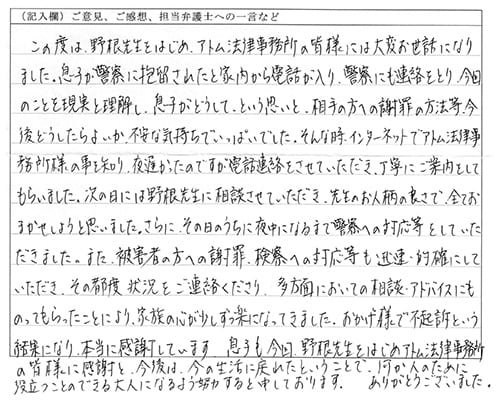 You will not be prosecuted because of the quick and accurate response from the day you entrusted to us until midnight!
They apologized to the victims and responded to the prosecution in a prompt and appropriate manner, and each time they contacted me about the situation, ・・・ and my family gradually became more comfortable.
From a client whose family was accused of indecent assault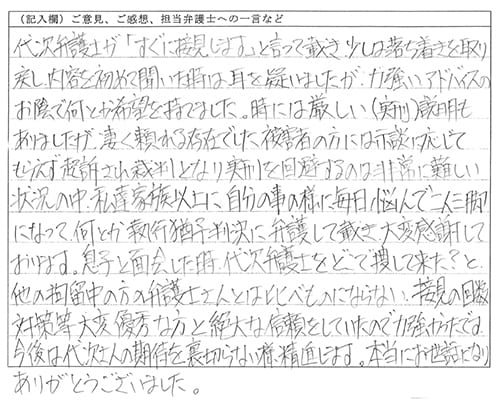 The lawyer was more worried than our family, and was able to get our family member granted a suspended sentence!
I am very thankful for the fact that our ATOM lawyer worried about our family even more than we did, and that we worked together to defend the suspended sentence.
From a client whose family was accused of shoplifting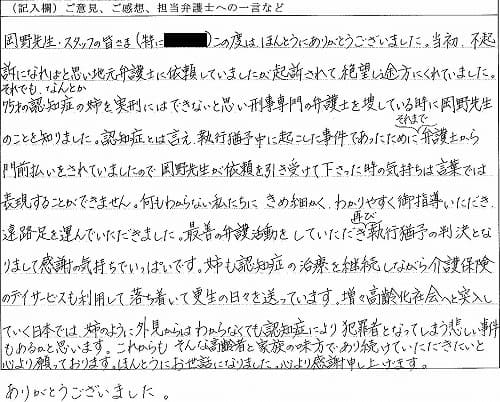 Thank you for taking this case, when other lawyers refused!
Until then, I had been turned away from many lawyers, so I cannot express in words how I felt when Okano-sensei accepted my request.
Our online ratings are over90%!
Online reviews of our lawyers and legal services are positive, with an average of 4.5/5.
The key to a criminal case is to consult as soon as possible.Please calm your concerns with a free consultation.